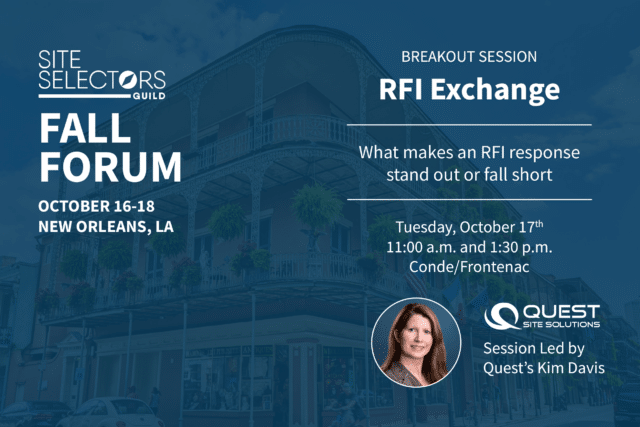 Join Quest Site Solutions' Kim Davis at the Site Selectors Guild Fall Forum in New Orleans on October 16th-18th. Kim will lead a breakout session about RFI responses on Tuesday, October 17th, at 11:00 a.m. and again at 1:30 p.m.
BREAKOUT SESSION:
RFI Exchange: An Open Discussion Between EDOs and Guild Members
This session is a two-way street. Our experienced panel kicks things off with a range of examples of what makes an RFI response stand out or fall short. The table then turns as economic developers share their experiences and perspectives and offer recommendations on improving the overall RFI process.
Panelists: Kim Williams Davis, Natalie Lynch, Jim Renzas and John Rocca
Details: Tuesday, October 17, 2023, 11 AM + 1:30 PM, Conde/Frontenac
About the Site Selectors Guild
The Site Selectors Guild is the only association of the world's foremost professional site selection consultants. Guild members provide location strategy to corporations across the globe and for every industry, sector and function.