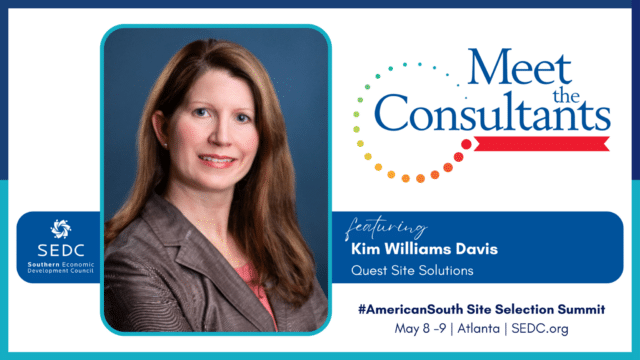 Quest's Kim Williams Davis will be a panelist for the session on site readiness at the #AmericanSouth Site Selection Summit. This Southern Economic Development Council event in Atlanta, GA on May 8-9 is an opportunity to meet site selection consultants and discuss strategies for economic development.
PANEL DISCUSSION:
Product Development: Preparing for Your Community to Win
Quick, risk-free site selection experiences and fast operationalizations are critical to economic development success. The #AmericanSouth has an incredible "speed-to-market" global advantage as communities and partners in the SEDC footprint are investing in product development unlike ever before. In this session, learn how to enhance the quantity and quality of your sites to win.
About the Summit
Economic developers, business leaders, site selectors, and policy-makers will convene at "Meet the Consultants: #AmericanSouth Site Selection Summit" to promote new economic development and to discuss future-focused strategies to accelerate progress in the #AmericanSouth. Hosted by the Southern Economic Development Council, North America's oldest and largest regional economic development association, the Summit agenda will feature globally active site selectors and the Council's expert members.